Lopi
Lopi (pronounced low-pie) has been designing and manufacturing home heating products for over 30 years. They are dedicated to heating your home efficiently while offering style and beauty. Lopi produces a variety of cast iron stoves and inserts, as well as gas and electric fireplaces.
Their wood-burning stoves and inserts provide both radiant heat and heat produced by a convection chamber, standard on all models. They burn so efficiently that the amount of carbon dioxide produced is no more than that produced by the wood decaying naturally. An added benefit is continuous heat even if your power goes out.
The Lopi gas stoves and inserts are direct vent appliances and have been approved by the American Lung Association. The stove or insert is sealed from the inside of your home to preserve the air quality inside and outside, and to prevent harmful by-products from entering your home.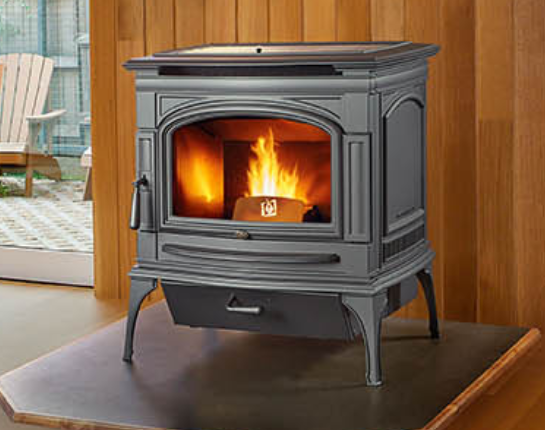 The latest additions to Lopi's lineup are pellet stoves and inserts. These units boast a horizontal rotary disc to deliver sufficient pellets to the combustion chamber for safe and efficient burning. Pellet inserts can transform your fireplace into an attractive and efficient heating machine that can produce heat for more than 30 hours from one load of pellets.
The Lopi stoves and inserts have models available that include cook tops. This is especially convenient if you live in a rural area in which frequent power outages occur.
Remodeling your existing fireplace or installing one in your new home, can be a daunting endeavor. Lopi gas fireplaces are direct vent appliances and have been approved for installation in outside rooms as well. Direct vent gas systems prevent harmful pollutants from entering your home, such as carbon monoxide or soot. This preserves air quality both indoors and out.
If you don't have a fireplace, and you are unable to install a fireplace or stove, you can choose an electric fireplace by Lopi. You can use the flame and heat, or just the flame alone, for ambience. Lopi electric fireplaces plug into a standard wall outlet and are very energy efficient. Your new fireplace can be installed in minutes with your choice of optional fireplace cabinet. They are perfect for home or office.
The craftsmanship and quality of these beautiful and functional heating appliances is evidenced by the Lopi reputation for standing behind every appliance they sell.