Vermont Castings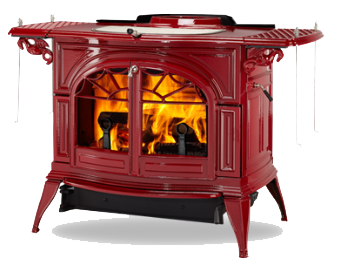 Vermont Castings produce and sell all of their items in the United States of America. Most of the employees have been at the factory since the beginning, giving them not only a sense of pride in their work, but the knowledge and experience to make a great product.
Since they use the latest in technology, Vermont Castings brings you the best and they do it while being eco-friendly.
As far as stoves go, Vermont Castings has a wide variety, giving customers a very wide range to fit their wants and needs. They offer catalytic, non-catalytic, and convertible wood stoves that heat areas from under 1000 feet up to over 1600 feet.
They come in several colors such as: Classic Black, Biscuit, Majolica Brown, Ebony Black, and Bordeaux. They also carry direct vent gas stoves that heat from less than 1000 square feet up to over 1700 square feet. All the models are magnificently handcrafted and use the latest innovations, so they are outstanding in performance and style.
For the past 35 years, Vermont Castings has provided efficiently American made stoves that are beautiful and of the highest quality.